Criminal History Record Check (CHRC)
Starting January 1, 2014, by law, all license applications and all renewals of active licenses will require a one-time criminal history record check to be done at the applicant or licensee expense. The 83rd Texas Legislature passed Senate Bill 204 which modified the Texas Engineering Practice Act to require this procedural change.
IdentoGO
IdentoGO by MorphoTrust is the criminal history record check service provider for TBPE.
Enrollment Center
You will need to visit a physical IdentoGO Enrollment Center in order to submit electronic fingerprints. Please use the following link to find and take note of a location near you.
Locate an Enrollment Center
If you are unable to find an IdentoGO Enrollment center near you, then submitting an FD-258 Fingerpint Card via mail to IdentoGO will be your best option.
CHRC Instructions
Please note that the process is different for electronic fingerprinting versus FD-258 ink card submissions via mail.
FAQ
Frequently Asked Questions
Video
TBPE staff produced a series of new instructional videos to assist applicants. Click on the image below to go to the YouTube playlist.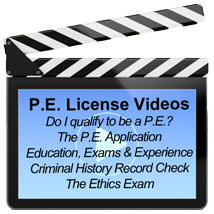 Policy Statements
Applicants
Professional Engineers
Rejected Prints