Criminal History Record Check (CHRC)
RPLS Fingerprinting is Now Open
The Texas Legislature passed a requirement that all Texas RPLS perform a fingerprint-based background check prior to their annual renewals. This process is now live and RPLS can begin scheduling appointments to complete the requirements.
Presentation Document from Recent Webinar
IdentoGO
IdentoGO is the criminal history record check service provider for TBPELS. Applicants will need to visit one of their Enrollment Centers to submit prints electronically.
If you are unable to find an IdentoGO Enrollment center near you, then submitting an FD-258 Fingerpint Card via mail to IdentoGO will be your best option.
CHRC Instructions
A printable PDF version of these instructions is also available:
Print/Save Instructions
Reference Codes & Numbers
Take note of the codes and numbers below as they are needed when submitting prints to IdentoGO.
Service Code:

11G66B

ORI:

TX923654Z

Applicant Number:

Unique for each applicant
How to get your Applicant Number
Electronic Fingerprinting
FD-258 Fingerprint Ink Card
FAQ
Frequently Asked Questions
Video
Staff produced a series of new instructional videos to assist applicants. Click on the image below to go to the YouTube playlist.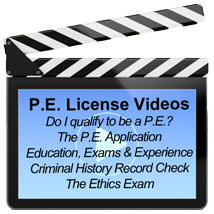 Policy Statements
Applicants
Professional Engineers
Rejected Prints